Matte and Satin Vehicle Wraps
Vinyl car wraps can come in so many different styles, textures and materials that you might have a hard time making a decision. Matte wraps and satin vinyl wraps are just two more of the incredible list of choices. These are applied and cared for in much the same way as others but there are some key differences.
Matte wraps are the perfect choice when a no-shine finish is wanted. Instead of being glossy and flashy, matte wraps for cars show the incredible lines and detailing of the car's body. These types of wraps are used for show cars, the sports cars and the exotic foreign cars. You never want to obscure the swooping dips and curves of these fine cars especially not with a lot of zing and flash. The matte wraps for cars should be considered the sophisticated take on car wrapping.
Satin vinyl wraps are kind of in between the high gloss and the matte style wraps. There is some shine but it is not overpowering. The satin wraps can also be referred to as either semi-gloss or luster. Depending on the color and style choice, you might get an almost soft glow especially in the sunlight.
It is important that you weigh the options carefully when choosing these styles. Of course, caring for these wraps is key to keeping them look great for as long as they are on your car but if you have a high performance machine it is unlikely that you are going to do anything like just leave it out in the driveway day after day. Minimizing exposure to the elements and ensuring safer cleaning practices will keep your matte or satin wrap in good condition.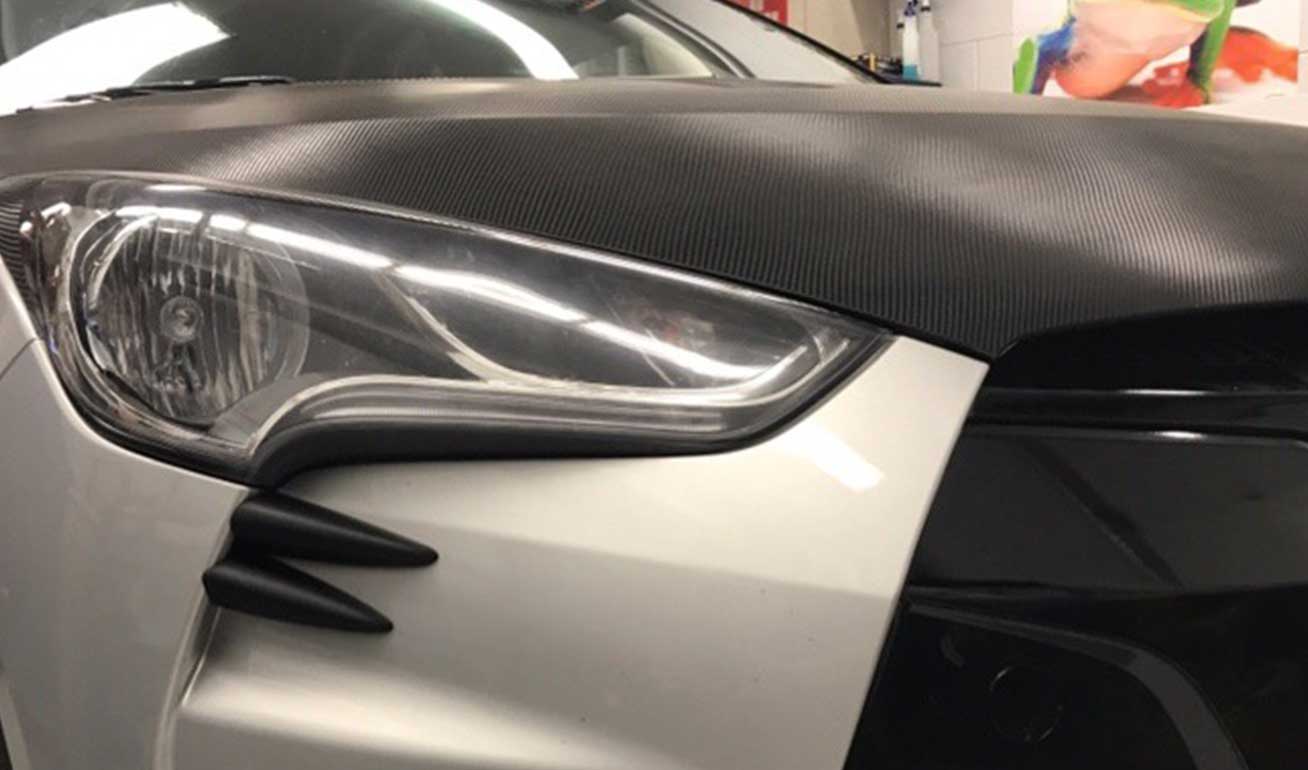 When you get an idea of what you would like to have for your car, give us a call and let us help you make a final decision. That first step is our consultation where we discuss your dream finish and your overall goals and then determine a wrap that will work for you, your car and your budget. Once we install the wrap and get your car back to you we can go over the tips to keeping it looking Day One great for as long as possible. And of course, if you have any questions before, during or after the process feel free to contact us. We want to be the ones that get your car looking like the car of your dreams.
Shark is located in North Bay, Ontario. We offer competitive pricing and fast, friendly service!
Choose Shark to create and install Custom Matte and Satin Wraps on your car or truck!
We would love to talk to you about your ideas – Call/Text: 705-476-6566