Let Shark Wraps show you all the options for Carbon Fiber car wraps. You can choose from Anthracite (Gray), Black Carbon Fiber or White Carbon Fiber.
Shark Wraps gives you the highest quality options. And we achieve the best possible custom results!
Choose Shark Wraps for your Carbon Fiber Wrap!
We offer competitive pricing, quick turn around and the highest quality results! We are conveniently located in North Bay, ON. Scroll down to see more Carbon Fiber Car Wrap options and more examples of our work!
There are vinyl car wraps and then you have your carbon fiber car wraps. If you don't know the difference between the two that's fine. We do and we can help point out the differences, the pros and cons and help you decide which is perfect for your car. Getting a 3M car wrap can be pretty exciting especially if you have plans to show off your car at local events. Some of the biggest differences between these two things comes in terms of price and overall added weight. If you are just a casual driver that wants to upgrade the look of their ride that weight may not mean much but if you are racing your car where every ounce could impact the speed; weight matters. It can matter a lot.
Real carbon fiber is both strong and light and gives a unique textural feel to whatever it is applied to. It has an added bonus of giving a 3D appearance as well. It comes in black but there are special techniques that can be used to add color as part of the finishing touches of the process. Carbon fiber car wraps are usually created from textured vinyl instead of actual fibers. It does cut the cost of the wrap but you give up the lightness. The 3M car wrap that mimics the carbon fiber look comes in several styles and there are more things that we can do for you. If you're not ready to do the whole car, we have options for you there too.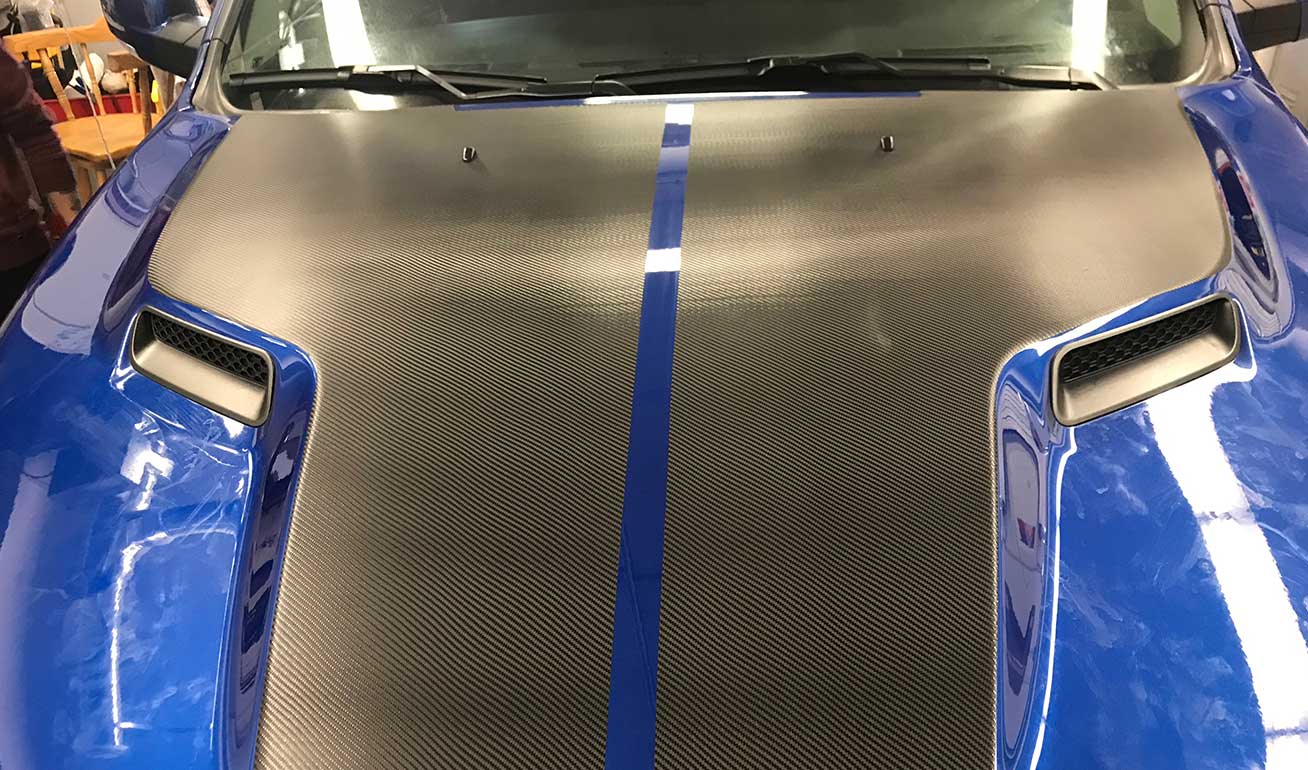 A carbon fiber hood wrap is a viable option for people who want the look but either are afraid to make the full commitment or just do not have the funding to make a full car wrap happen just yet. Just using the carbon fiber hood wrap can let you get more daring and more creative with the design. Since you are only doing one area of the car it may take a shorter period of time and will also add less weight to the car.
No matter what you decide, working with carbon fiber and carbon fiber wraps can be tricky especially if you are not a professional. Before you waste your time and money on kits that may or not work out for you, come and talk to us. Let's work together on figuring out what is best for your vehicle needs and your budget.

Shark is located in North Bay, Ontario. We offer competitive pricing and fast, friendly service!
Choose Shark to create and install Custom Carbon Fiber Wraps on your car or truck!
We would love to talk to you about your ideas – Call/Text: 705-476-6566